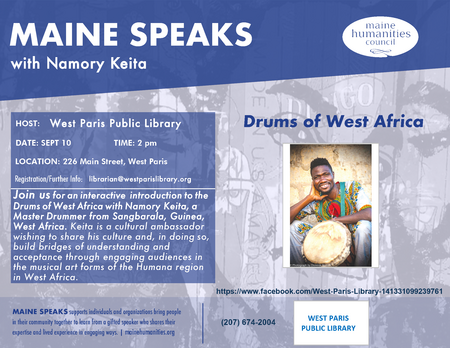 WEST PARIS – West Paris Public Library is honored to present:
Drums of West Africa with Namory Keita: a MAINE SPEAKS event.
Join us Saturday, September 10, at 2 pm, for an interactive introduction to the drums of West Africa with Namory Keita, Master Drummer from Sangbarala, Guinea, West Africa. Keita is a cultural ambassador wishing to share his culture and, in doing so, build bridges of understanding and acceptance through engaging audiences in the musical art forms of the Humana region in West Africa.
Keita is a sought-after teacher and performer with a unique style and a wealth of traditional knowledge, very rare to find outside the villages of Guinea. His resources include his remarkable ability to engage any audience and his relationships with dancers and drummers locally and around the world.
This outdoor event is free, but registration is required. If you have a favorite comfy folding chair or blanket, you are welcome to bring it along. There will also be folding chairs available. West Paris Public Library is at 226 Main Street in West Paris. In case of bad weather, we will meet inside the Library while observing pandemic safety precautions. Parking is available behind the Library.
MAINE SPEAKS supports individuals and organizations to bring people in their community together to learn from gifted speakers who share their expertise and lived experience in engaging ways. This event is sponsored by Maine Humanities Council.
To register:
• Call 207-674-2004.
• Email librarian@westparislibrary.org.
For more information on this and other programs:
• Visit our website www.westparislibrary.org.
• Visit our Facebook page https://www.facebook.com/West-Paris-Library-141331099239761.