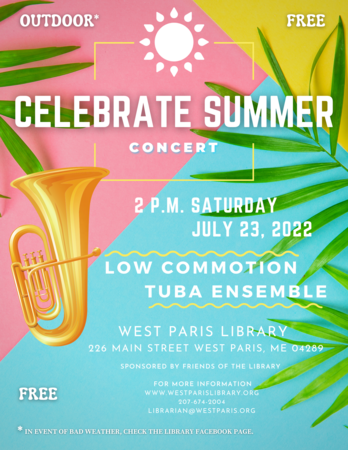 The tuba ensemble "Low Commotion" will present a concert at 2 p.m. Saturday, July 23, at the West Paris Public Library (Arthur L. Mann Memorial), 226 Main Street, West Paris. The concert will be held outdoors on the lawn.
In case of inclement weather, please refer to the Library Facebook page.
https://www.facebook.com/West-Paris-Library-141331099239761
Low Commotion, which was formed in 2013, is an ensemble of euphoniums (tenor tubas) and full-sized tubas. The group performs several concerts each year at senior living centers, veterans homes, churches, and libraries. Literature performed ranges from jazz, marches, and contemporary music.
Sponsored by the Friends of the Library.
For more information, contact the Library at 207-674-2004 or librarian@westparislibrary.org.