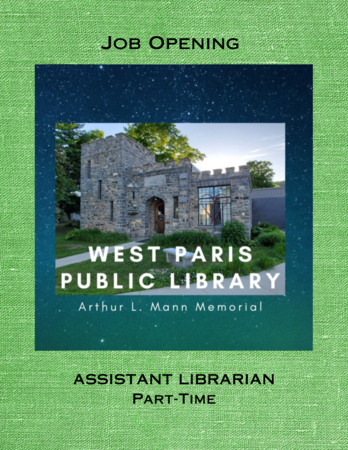 Job Opening for Assistant Librarian - West Paris Public Library (Arthur L. Mann Memorial)
How To apply:
Employment applications and position descriptions are available at the West Paris Public Library or the West Paris Town Office. With your completed application, include a resume and a cover letter expressing your interest in the position. Mark your envelope to the Attention of West Paris Public Library Director Brenda Lynn Gould. Bring your application to the West Paris Public Library or the West Paris Town Office. Email questions to librarian@westparislibrary.org.
The position is part-time. The pay rate is $14.53 per hour. Read the position description for more information.
Deadline: Open until a suitable candidate is found.
-----------------
Position Description for Assistant Librarian - West Paris Public Library (Arthur L. Mann Memorial)
Position: Assistant Librarian
Reports To: Library Director.
Summary of Work:
Under the supervision of the Library Director, the Assistant Librarian shall perform the clerical and customer service work in delivering library services on Saturdays and during vacations and absences of the Library Director.
Job Characteristics:
• Nature of work: performing activities related to library operation.
• Personal contact: continuous contact with the public.
• Supervision received: direction will be given through the Library Director.
Areas of Accountability and Performance:
1. Staffs the library from 10:00 AM to 2:00 PM on Saturdays. There are four Saturday open hours, with up to one additional hour designated as the administrative time for opening and closing procedures and completion of Saturday duties.
2. Substitutes for the Library Director during vacations, conferences, or other absences.
3. Informs the Library Director as soon as possible if unable to work due to illness or other reasons.
4. Participates in professional development educational activities offered through the Maine State Library, including the Voluntary Public Librarian Certification Program.
5. Securely opens and closes the library.
6. Follows library policies adopted by the Board of Selectmen.
7. Follows procedures written by the Library Director.
8. Respects the privacy of library users.
9. Maintains strict confidentiality of patron records.
10. Greets library users.
11. Assists phone callers.
12. Assists library users in the use of the online library catalog.
13. Logs library attendance and computer use on the demographic spreadsheet.
14. Promptly handles, records, and secures any funds that come into the library.
15. Picks up incoming mail.
16. Checks out and renews library materials.
17. Collects returns from the library drop box.
18. Checks in and shelves returns.
19. Notifies patrons of materials being held for them.
20. Registers new patrons. Keeps accurate patron records.
21. Has general knowledge of operating a computer system.
22. Assists in processing new collection acquisitions.
23. Ensures the public computers are used in accordance with policy and children have the proper parental permission.
24. Instructs patrons needing help on library computers.
25. Assists patrons using library equipment, including making photocopies and faxes.
26. Refills the copier paper tray as needed.
27. Notifies the Library Director when toner or ink cartridges are low or empty.
28. Plugs in laptops at the end of the day to recharge.
29. Fields requests for new acquisitions and interlibrary loans. Logs requests on the related spreadsheet.
30. Assists library users in locating and retrieving materials.
31. Provides potential volunteers with applications.
32. Learns about the history of the West Paris Library and is willing to share with visitors.
33. Resolves situations involving disruptive library users with patience, tact, kindness, sensitivity, and consistency. Informs the Library Director if such problems occur.
34. Maintains the cleanliness of the facility during shift.
35. Participates in special projects assigned or approved by the Library Director.
36. Performs other related duties as required.
Education and Experience:
• Minimum High School diploma or equivalent. College or work experience preferred.
• Basic computer skills sufficient to assist patrons and perform circulation duties.
• Clerical skills include keyboarding, word processing, and math.
• Knowledge of proper English grammar, vocabulary, and spelling.
• Ability to provide excellent customer service.
• An enthusiastic willingness to learn new skills.
• Other training or experience acceptable to the Town Manager and the Library Director.
Physical Demands:
The physical demands described here represent those that an employee must meet to perform the essential functions of this job. Reasonable accommodations may be made to enable individuals with disabilities to perform essential functions.
While performing the duties of this position, the employee is frequently required to walk, sit, talk, or hear. The employee is occasionally required to use hands to operate objects, tools, or controls; and reach with hands and arms. The employee is occasionally required to climb, balance, stoop, kneel, crouch, or crawl. The employee must occasionally lift and or move up to twenty pounds. Specific vision abilities required by this position include close vision, distance vision, color vision, peripheral vision, depth perception, and the ability to adjust focus.
Work Environment:
The work environment characteristics described here represent those encountered while performing the essential functions of this job. Reasonable accommodations may be made to enable individuals with disabilities to perform essential functions.
The noise level in the work environment is generally quiet to moderate.
Job Performance Standards:
Evaluation of the person holding this position shall be made primarily on the preceding job description requirements and duties. Examples of job performance criteria include the following:
1. Performs assigned duties.
2. Promotes library services and activities.
3. Provides information to the Library Director.
4. Observes work hours. Demonstrates punctuality.
5. Deals cheerfully and tactfully with the public and displays commitment to public services.
6. Makes sure the library is neat and clean.
Pay Rate: $14.53 per hour
(Rev. March 27, 2023)