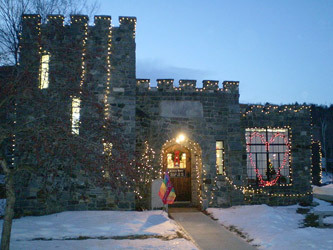 The West Paris Library, the "Little Castle with the Big Heart", each year celebrates the arrival of winter and holidays, with a gathering of families, friends and neighbors, sponsored by the Friends of the West Paris Library. This year the sparkling lights in the windows and the big red heart in front will serve as an invitation for all to come in and enjoy the festivities and the decorated interior.
On Friday, December 6, beginning at 6:30 PM, the celebration will include seasonal music played by Elaine Emery on the keyboard and Stephanie Emery on flute. This mother/daughter team make beautiful music together.
The Friends are happy to announce a new display of drawings by local artist, Michael Liimatta, beginning December 4th.These drawings will feature an interesting variety of subjects, and may be viewed the evening of the 6th, as well as throughout the winter months.
This year, an added reason to celebrate is the long awaited completion of work to replace the masonry in the original part of the library, or, the "castle". Many people contributed toward the fulfillment of this project.
We hope you will join us the evening of December 6th. There will be ample time to enjoy the music, the art, plentiful refreshments, and good conversation in the warmth of this special gathering.
For more information please, call the Library: 674-2004.
Sponsored by the Friends of the West Paris Library.